HeadRoom Managing Partner Erin Lievens shares what she learned from the inspiring speakers at the 2015 Pennsylvania Conference for Women.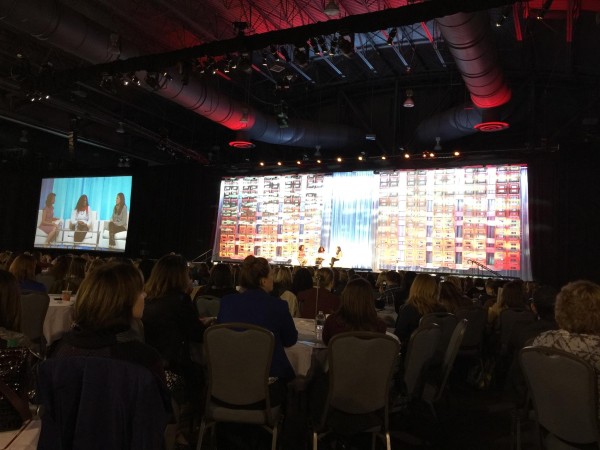 There is something incredibly powerful about sitting in a room filled with over 8,000 businesswomen representing every industry, field, and position. There were probably more differences than similarities between those of us in the room, and yet we all felt connected as we listened, as one, to the inspirational words of speakers like Carli Lloyd, Lehmah Gbowee, John Jacobs, Jessica Alba and Gloria Steinem. Breakout educational sessions were available throughout the day, giving us an opportunity to learn more about topics that were relevant to each of us individually. I'm sure that every woman at the conference came away with something that was valuable and meaningful to her. These are the top things that I took away from the day:
From Gloria Steinem
Writer, Lecturer, Editor, and Feminist Activist
"You need to see it to be it." One example that she gave was in regards to women in technology. She stated that there is no "math" or "history" mind, meaning that men and women are not naturally more inclined toward one field of study versus the other, and that the issue lies in learned behavior from childhood. We need to "unlearn" the falsehood that boys are better at STEM-type fields than girls. Girls need to see more women in tech jobs so they will know that it is an option for them.
From John Jacobs
Co-founder of The Life is Good Company
Positivity and optimism are the keys to a good life and optimism is at its most powerful in times of darkness.
"When you try something new, you either succeed or you learn. Take failure off the table."
"Change the words 'have to' to 'get to.' Instead of saying 'I have to pay the bills,' say 'I get to pay the bills because I am fortunate enough have a job and a home.'"
From Leymah Gwobee
Liberian Peace Activist
"People ask me if I am a pessimist with all that I see in the world. I tell them, I cannot be a pessimist AND an activist." She spoke of the importance of optimism and hope and that there is so much more good than evil in the world and that we need to focus on the good rather than the evil. She challenged each of us to do one good deed per day that everyone else is scared to do.
From Carli Lloyd
Professional Soccer Player for the U.S. Women's National Team
The most important factors in being the best in your field are hard work and having a coach, mentor or accountability partner to keep you on track. She said that the turning point in her career came when she found a coach who pushed her to work every day. Even holidays. You can bet that your competition is taking Thanksgiving and Christmas off. If you don't, you get ahead.
---
There was so much more that I learned from the speakers and breakout sessions at the 2015 Pennsylvania Conference for Women, and it was wonderful to connect with old friends and to make new ones. But the most important thing that I took away from the day is something that I cannot articulate. The best I can say that I left with a feeling of energy, inspiration, motivation and excitement about the possibilities for myself and for all women.